Profile
Table of Contents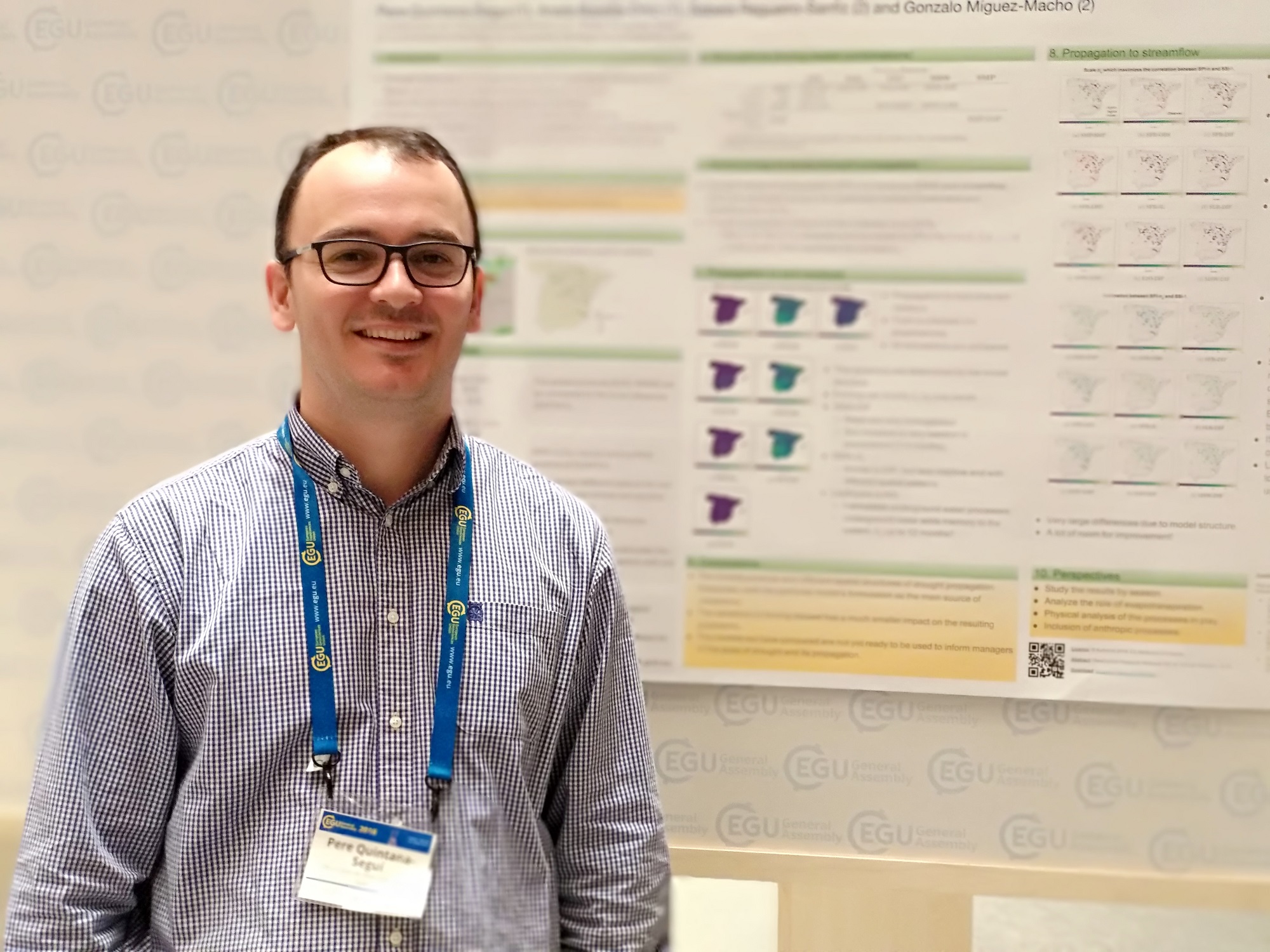 Personal Data
Researcher identificators
Current Academic Affiliation
Keywords
Meteorology, hydrology, climate, land surface, impacts of climate change, hydrological extremes, floods, droughts, water resources, distributed hydrological modelling, meteorological analysis.
Education
PhD: Meteorology and Hydrology
2005 - 2008 PhD. Centre National de Recherches Météorologiques - Météo-France. Toulouse (France).
Subject: Simulation hydrologique en région méditerranéenne avec SAFRAN-ISBA-MODCOU. Amélioration de la physique et évaluation des risques dans le cadre du changement climatique (Hydrological simulation in the mediterranean area with SAFRAN-ISBA-MODCOU. Improvement of the model's physics and evaluation of risks under climate change.).
MSc: Ocean, Atmosphere and Continental Surfaces
2004 - 2005 Master 2 Recherche "Océan, atmosphère et surfaces continentales". Université Paul Sabatier. Toulouse (France).
Fev - Jun 2005 Research Project: "Amélioration de la simulation des crues en Méditerranée à l'aide du système SIM". Centre National de Recherches Météorologiques. Toulouse (France)
Quality
To work as lecturer, professor or researcher in a Catalan university, it is necessary to obtain a quality report from AQU, the Catalan Agency for the Quality of the University System.
In 2012, I obtained a favourable report to work as "Tenure-track lecturer" (professor lector).
Also, our research is evaluated in batches of six years. Currently, I have the following periods favorably evaluated by AQU:
Languages
Catalan: Mother tongue. Grau superior de la JQCV (C2), 2009.
Spanish: Native speaker2.
English: Cambridge Proficiency Exam (C2), 2003.
French3.: Diplôme d'études en langue française (DELF), A1, A2, A3, A4 (1997 - 1999). Escola Oficial d'Idiomes, Nivell Avançat (B2), 2015.
Footnotes:
1
My family name is Quintana Seguí, not Seguí. Since 2011, in all my publications I'm writing my name as "Pere Quintana-Seguí", to avoid this confusion. Read more about the Spanish naming convention here.
2
I made a difference between mother tongue and native speaker, which are usually considered synonyms. Catalan is my mother tongue because this is the language my parents transmitted to me, and, in fact, it is also the language I mainly use with family, friends and coworkers. However, Spanish is widely used in the Catalan speaking regions of Spain. In fact, in Spain, every speaker of Catalan is also a speaker of Spanish. We learn both languages at school and we also use both of them everyday, switching languages very often. Therefore we all speak Spanish as well as any other Spaniard, even though, technically, it is not our mother tongue.
3
I lived in French speaking countries for five years, working in this language. I even wrote my PhD thesis in French (with some help from my advisors).